MODERN OFFICE BUILDING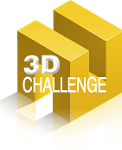 VIEW THE ARTWORKS





3D CHALLENGE ARCH-VIZ MODERN OFFICE BUILDING
INTERNATIONAL RENDER CONTEST
December 2014 – January 2015
INTRODUCTION
Welcome to SKT 3D CHALLENGE, our new website section dedicated to render contests. This major project blossomed from our past experience in render challenges, which in the last three years were always arranged on social media, Facebook in particular, trying the best we could to overcome the many difficulties that we encountered, in which all those who participated, knew well of.
With the increase in number of competitors (last competition had 600 entered works) and the need to be able to see good image quality (in high resolution), which enables you to enjoy a good all round technical detail of a render, the utilization of Facebook, for this type of competition and purpose, was confirmed as not really suitable for this.
Obviously with use, this site will be continually be subject to improvement. Always pointing towards and finding an optimal solution. So, it is with great joy that we announce the first challenge….
Let's see what the main highlights are for participants:
Registration is free
Each competitor will have their own personal page
Each competitor can upload their works independently
By clicking on the thumbnails, the works will be quickly visible in high resolution
We have implemented a system that allows the sharing of each work on major social networks
On the page
INFO HELP
, you will find a guide for how to use this site and answers to frequently asked questions.
We are delighted to announce our new 3D challenge Arch-Viz Modern Office Building Render Contest for December 2014 – January 2015, This 3D model was designed, modeled and rendered by
Quốc Hữu Trần
,
a young architect from Vietnam, who already expresses a quality of the style that is really appreciable and whom we thank very much for allowing us to use his wonderful 3d model.
Modern Office Building is a project that perfectly interprets the architectural trends of recent years: cement, metal armatures, transparency, glass windows "plein air" effect, simple geometric shapes but with an elegant optical lightness
---

VIEW THE ARTWORKS