MISSION
Sketchup Texture Club

is an no-profit educational and informative portal, managed by Image Promotion Association for 3d community, with particular emphasis on visualization and rendering techniques addressed to students and to the professionists of architecture and interior design, and all those who are approaching the learning of the 3D visualization. In this web site we share the experience and the work material useful to the deepening of the use of the 3d world. Our portal unites CG fans and Professionals alike and our success has made us one of the most important CG resource sites in the world.
Sketchup Texture, originally born as a Facebook community, was founded in September 2010 to share and compare with all the 3D graphics enthusiasts, materials, information, impressions, news and trends in architecture and interior design, becoming in a short time, an important point of reference for all those working in computer graphics and 3D modeling.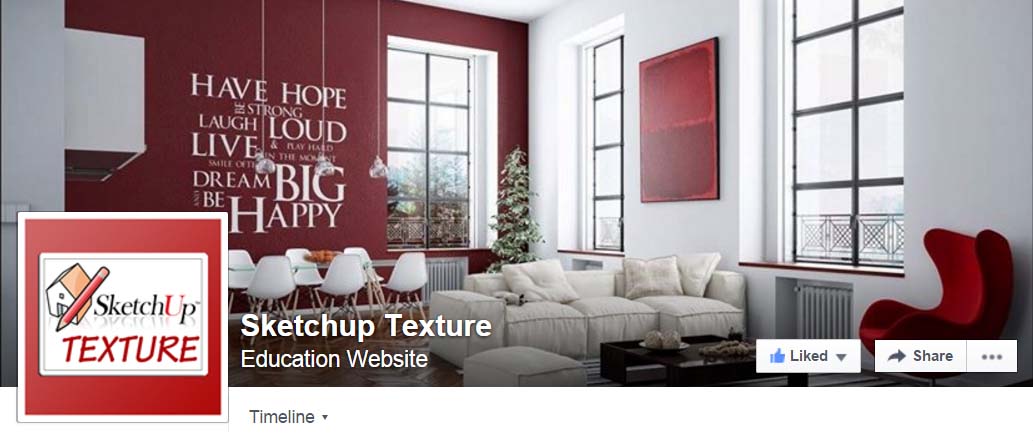 Our Facebook page is currently followed by

more than 500.000 people

that we thank for the loyalty shown since the
---
In March of 2012, it was created on Facebook, the "SketchUp Texture " Facebook group that today, has more than 119,000 members. It is a meeting point and reference, in which all members of the group, may request, and provide support and information on the various rendering techniques in order to improve their performance.

With the founding of the group, we started even the first rendering challenges with an increasing and enthusiastic participation of competitors, spurred by the desire to question themselves through the pursuit of excellence,so that the challenges are really a great learning opportunity, which comes from the comparison of the results achieved, as all competitors are committed to working on the same subject.
---
In late 2012 the urgency to have a place to collect all materials, textures, tutorials and 3D models, allow the creation of www.sketchuptexture.com, a blog where all this universe was more easily accessible. This choice shows quickly another success:

every month, more than 1,200,000 architects

, designers and CG artists from around the world,

visit our blog

, and send us a lot of e-mail to thank us for our efforts.

In the same year we created a new Facebook group , '3D Challenge', with a response of 37.000 members in a few months. The group is dedicated to the professionals to interior designers and architects with a level of high quality render. A TOP group that collects and represents excellence. A meeting point and reference, where you can view the best professional proposals, both from the technical point of view, that from the point of view of design and 3D visualization. We will invite the best professionals, to share their artworks on the site, through a personal page, studied for promoting at international level their works and their image.

---
In order to better organize the challenges of rendering, last year we implemented the first part of this site, with the 3D CHALLENGE section. Here the competitors, have the possibility to upload directly their artworks on the site. The works of the artists are visible in high resolution, this allows you to appreciate the finer details.
The creation of this web site, is a natural consequence, which arises from the need to:
better organize all the available material, because a blog has many limitations. In particular as regards the storage of files. Given the amount of materials, today we need to have our virtual warehouse in which to store all the material, present and future.
make the web-navigation fast, easy and professional for all of you that are looking for textures or other specific materials. All our materials are improved and rebuilt, and today, many textures, are also available in high resolution
Offer a broad international view for top CG artists and designers to promote their artworks through " 3D ARCHVIZ" and "3D MODELS" an international portal that wants to thrust excellences in our Community. For the best CG Artists, it will be really a great opportunity to be present.

We're always refining our services to encounter all kind of professional requirements. Every suggestions and counsel will be keep in consideration. Meanwhile we would thank all of you for your time and participation.
We wish you good work and good surfing.
Welcome to your new CG Community!
Sketchup texture Club Admins