A garden in the bathroom D5 render front view
A garden in the bathroom D5 render - sink area
A garden in the bathroom Corona render
A garden in the bathroom Corona render - sanitary area
A garden in the bathroom, sink area in SketchUp
A garden in the bathroom by Rosanna Mataloni
Free 3D Model
by Rosanna Mataloni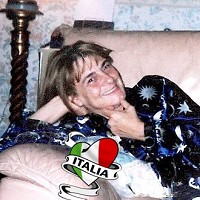 Designer Info
Profession: designer
Castel San Giovanni, ITALY
The scene include
- textures
Technical Information
Rendering engine: D5 RENDER / CORONA
Post process: PHOTOSHOP 2022
3D format: Sketchup 2016
Download: ZIP File - 168,97 MB
Description
A garden in the bathroom.
It is made in sketchup pro 2022 but available in sketchup 2016 with all textures and rendered by testing 2 different rendering engines: part with D5 render and part with Corona
This project
it comes from my desire to study its feasibility, in a urban context because the idea fascinated me a lot: I love greenery, plants and flowers and I love the atmosphere of serenity that surrounds me when I I find in contact with nature.
The bathroom measures 5 x 4 meters. Obviously it is not suitable for a small apartment as standard homes in Italy are on average between 70 and 100 square meters. However, I believe we can take some ideas even for smaller environments.
The flowerbed is outlined by a concrete perimeter shaped following the edge of the tub and filled with white stones . The bathtub rests on the floor like all freestyle bathtubs
Some have argued which is an impractical solution for hygiene and cleanliness, but it is exactly the same situation with the potted plants that we all have at home, so, if cleaning the living room where we have our beautiful plants is not a problem, it is even less so in this case because it's like having a large vase in the bathroom with many plants in an environment where humidity becomes an advantage .
I strongly believe that Often it is only by daring that new perspectives open up: only in this way does the mind begin to make its knowledge available to creativity, it begins to study and think about new dimensions and solutions that become "what was not there"... As Steve Jobs said "Stay hungry. Stay foolish "
We hope it will be useful for practicing. Keep to render !
Please, by using this 3d model follow the terms of use,
Paragraph 5 - 3D MODELS TERMS OF USE points 5.1 - 5.2 - 5.3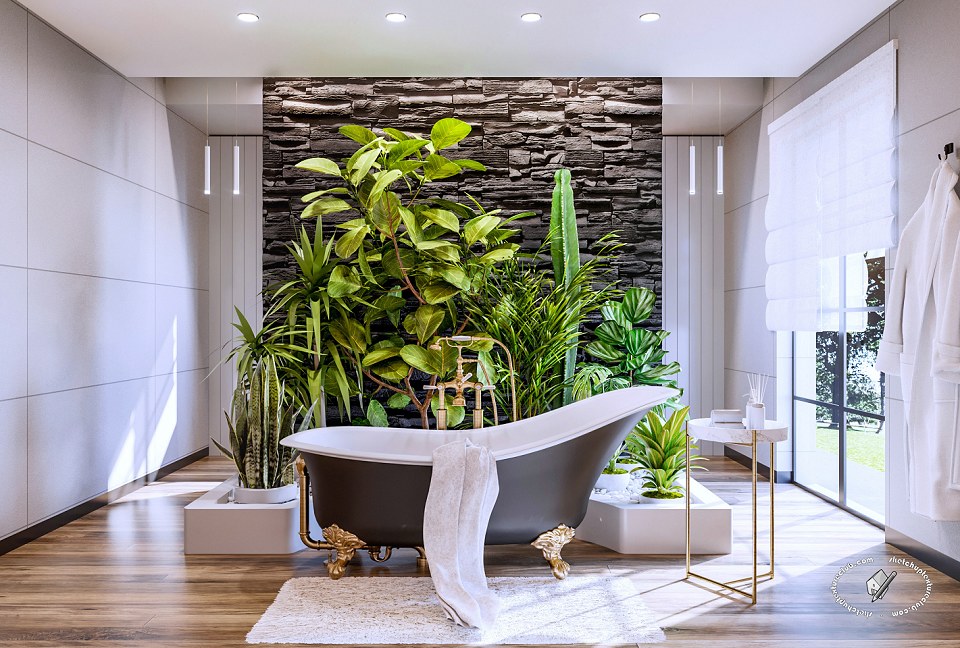 ARTIST GALLERY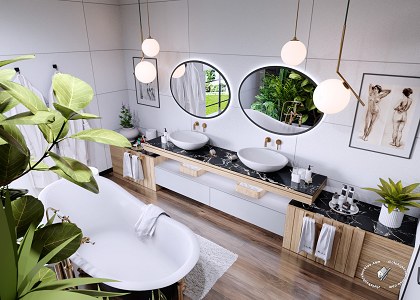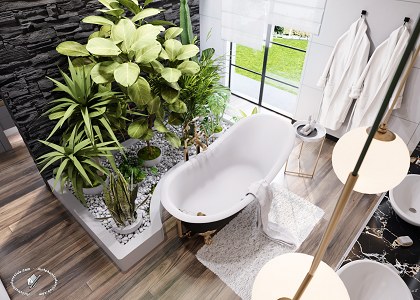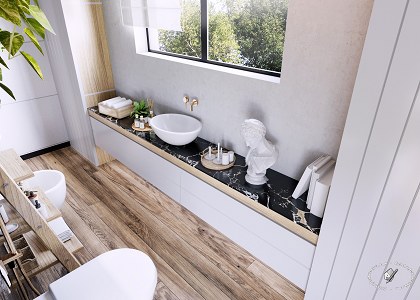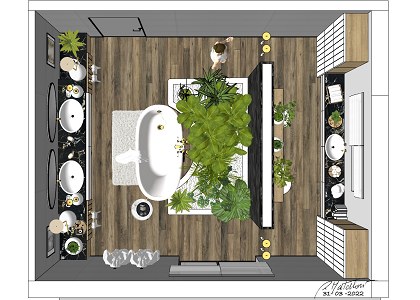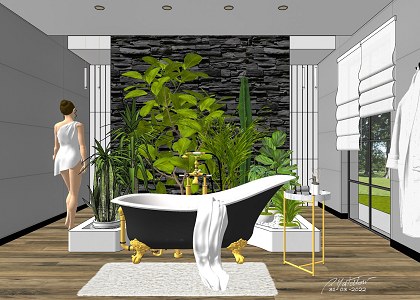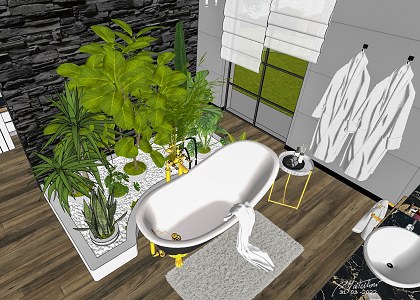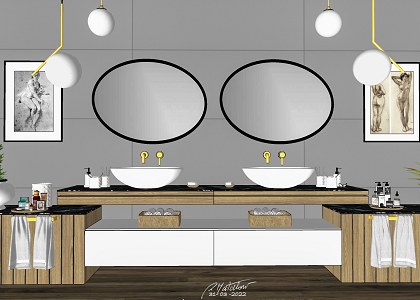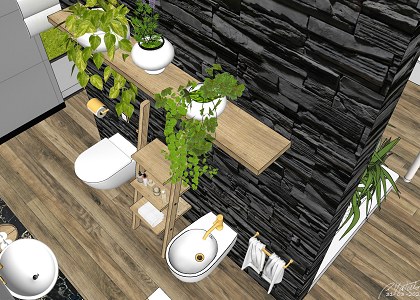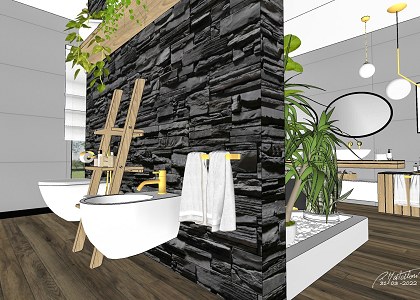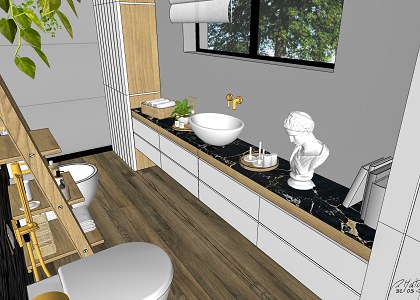 YOU MAY ALSO LIKE...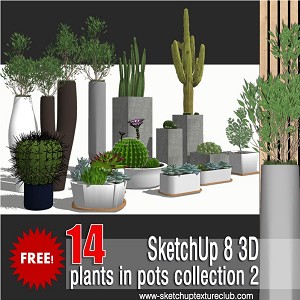 14 SketchUp 3D...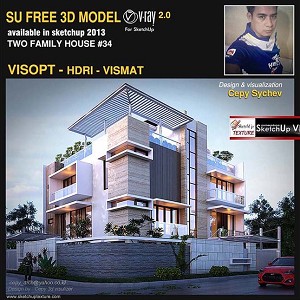 MODERN TWO FAM...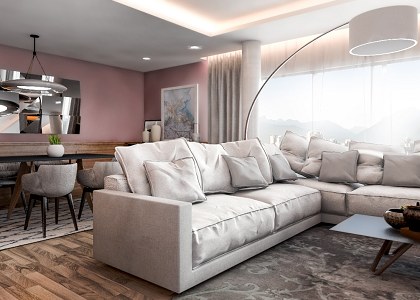 LIVING ROOM & ...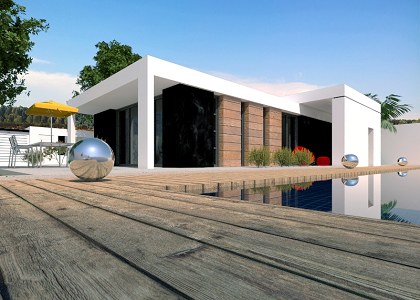 VACATION HOUSE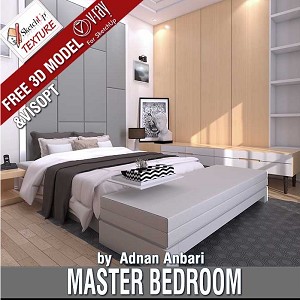 Master Bedroom